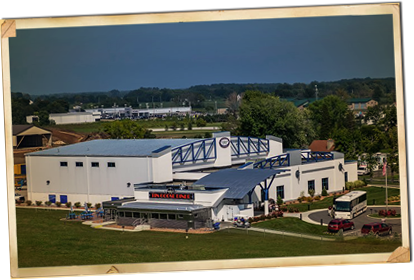 LIBERTY AVIATION MUSEUM
The Liberty Aviation Museum was established on December 7th 1991 with a handful of dedicated volunteers to showcase WW2 aircraft. In 1994 we had the opportunity to put on a well received air show at the Erie-Ottawa Regional Airport in Port Clinton, Ohio. This very fortunate turn of events led us to formally announce in 1996 our intent to locate our museum at the Erie-Ottawa Regional Airport.
Embracing the deep aviation heritage of the area we began to plan for a facility to include a hangar and museum along with a 1950's era themed Diner.
In 1994 we undertook a search to locate and return to the airport a flyable Ford Tri-motor, and in October of 1996 we were fortunate indeed to come into contact with Maurice Hovious - a world renowned Ford Tri-motor expert and restorer.
This initial contact later inspired Maurice Hovious to further his dialogue with Ken Benjamin who convinced Maurice to make this unique idea a reality. Since then an amazing amount of work has been completed by EAA Tin Goose Chapter 1247 volunteers on the restoration of a new Ford Tri-motor project sponsored by Maurice. This progress then led to the Establishment of the Tri-motor Heritage Foundation - taking up the torch to be the caretaker of this rare treasure.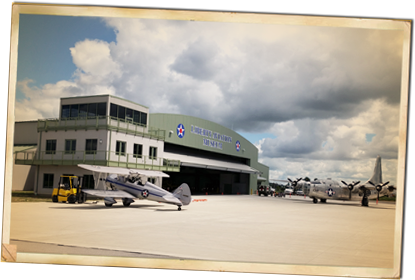 In 2010 we acquired flyable vintage WW2 North American B-25 Mitchell Bomber. The 2011 season was spent training crews to fly her at air shows throughout the year. Our B-25 underwent comprehensive restoration work at Aero Trader in Chino, California over the winter of 2011/2012.
In 2011, the dreams of all three organizations to have a permanent place to call home became reality with the announcement that a Museum/Hangar facility would be built at the Erie-Ottawa County Regional Airport. The museum facilities opened to the public in July, 2012, and was heralded by the arrival of the newly refurbished B-25, "Georgie's Gal."
In less than one year the museum was already running out of room and bursting at the seams! An additional hangar was planned to give much needed space to accommodate even more exciting events and projects, as well as room to house more displays and aircraft.
Construction started on second 150' x 150' main hangar, along with an attached 25' x 125' workshop, and 72' x 125' multi-purpose hangar that has allowed us to display PT-728 during the Winter months. A three story WWII themed control tower, attached to the new hangar provided much needed additional office space. Available aircraft ramp area was tripled along with increased parking, and the addition of a new entrance drive off SR-53. This second structure was completed and opened in 2015
TIN GOOSE DINER
The Tin Goose Diner is a one of the finest working examples of a cultural icon -- the American Diner. This particular diner was built in 1949, in Elizabeth, New Jersey, by the Jerry O'Mahony Diner Company. It was purchased and moved to Jim Thorpe, Pennsylvania, where it operated first as Steve's Diner, and later as the Sunrise Diner. After an extensive historical restoration, it became a permanent part of the Liberty Aviation Museum in 2012.
The concept and evolution of diner design have a long history that can be traced back almost 150 years ago. The story starts in Providence, Rhode Island, in 1872.
Walter Scott was a newspaper press operator in Providence, who started supplementing his income by selling sandwiches and coffee to other newspaper workers in the 1850s. Newspaper work was done throughout the night, and restaurants were typically only open during daytime hours. By 1872 business had become so lucrative, Scott quit his newspaper job and converted a covered horse drawn wagon with a couple of openings through which he could sell his food.
Over the next few decades, others followed suit with their own lunch wagons, each adding their own improvements, and the diner business began to expand throughout New England. First they were built entirely of wood. Some added exterior counters. Others incorporated interior standing room or stools, where patrons could find shelter from the elements as they ate. Cooking stoves were added and greatly expanded the menu options available. Decorative touches, such as etched or stained glass became a common element of these early diners. Before the close of the 19th century, diners began to feature soda fountains, which became a staple for many of the 20th century diners that followed.
It didn't take long for professional diner manufacturers to emerge. Charles Palmer, of Worchester, Massachusetts, was granted the first patent for a "night lunch wagon" in 1891. T. H. Buckley was the earliest entrepreneur, founding the New England Night Lunch Wagon Company in 1892. The "Worchester Lunch Car Company," founded by Philip H. Duprey, produced over 600 diners between 1906 and 1957.
In 1917, Jerry O'Mahony of Bayonne, New Jersey, built his first two lunch cars. His company quickly became the largest manufacturer of the day. By 1924, their catalogs were using the term "diner" in place of "lunch car" or "lunch wagon."
The change in name reflected a change in the culture. Diners became more elaborate, offering a similar dining experience to more traditional restaurants. They were larger than their predecessors, and the modern layout of a long counter and all of the cooking performed on the other side became standard. Diners became a part the American experience, spreading throughout the country and operating at all times of the day and night.
The Tin Goose Diner is a fully functioning diner, open to the public seven days a week. (Check the web site for hours, specials, and other information.) Proceeds from the Tin Goose Diner help support the Liberty Aviation Museum, a non-profit organization. The diner can be entered through the museum's main entrance.