COMMERCIAL CIVILIAN VEHICLES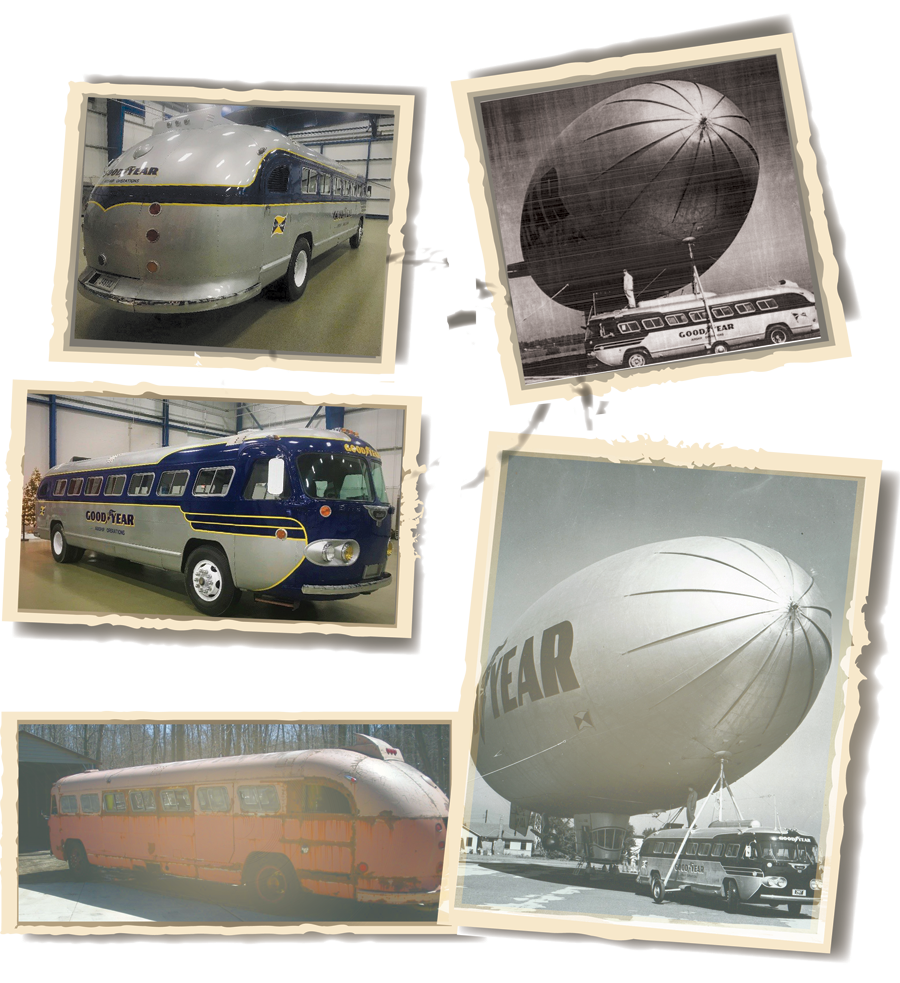 One of our newest arrivals at the Liberty Aviation Museum is a 1947 Flxible Bus that served as a mobile mooring mast and support vehicle for the world-famous Good Year Blimp. John Lingafelter of Concord Township, OH completed a multi-year restoration of the 71 year old vehicle.
Goodyear had three buses built by Flxible Corporation in 1946 and 1947 to support airship operations. The buses were built in Loudonville, OH. Of the three buses built, only the 1947 is known to have survived.
The 1947 bus was retired in 1966, sold, and was converted into a private motor home. In 2014, John and Paulette Lingafelter purchased the bus to prevent it being scrapped and began searching for someone that would have an interest in restoring the vehicle. Later in 2014 the Liberty Aviation Museum learned the bus was available, and asked Mr. Lingafelter to undertake the restoration project.
Mr. Lingafelter is a skilled restorer of collectible cars and has a special interest in the Flxible Bus. Using his years of experience, he began the extensive restoration of the body of the bus. Panels and components were fabricated and made to function as new. Wiring and fuel tanks were replaced, and numerous electrical gremlins were resolved. Surprisingly, the engine, transmission, and other mechanical components required little attention. The original 6-cylinder gasoline engine manufactured by Reo starts easily and runs smoothly. The 4 speed manual transmission shifts as it should, and the brakes work properly.
We are extremely pleased with the quality of the work completed to date. The bus is on display at the Museum now and we are excited for our members and guests to look her over. The interior of the bus still needs to be completed. Numerous ideas are being evaluated that will respect the unusual history of the vehicle while engaging visitors of all ages. As soon as the interior is completed, and new tires fitted, the bus will be able to serve as a mobile ambassador for the Museum.
Specs:
1947 Flxible Bus
Model : Clipper, Serial #7665
Manufactured: Loudonville, OH
Sold to: Goodyear Tire and Rubber Company
Engine: 331 cubic inch 6 Cylinder White "Super Mustang", manufactured by Reo
Transmission: 4 speed non-synchronized manual
Steering: Manual with air assist
Brakes: Air
Length: 32'
Width: 8'
Weight, dry: 14,500 pounds
Special features: Reinforced chassis and roof for blimp mooring mast.
CIVILIAN VEHICLES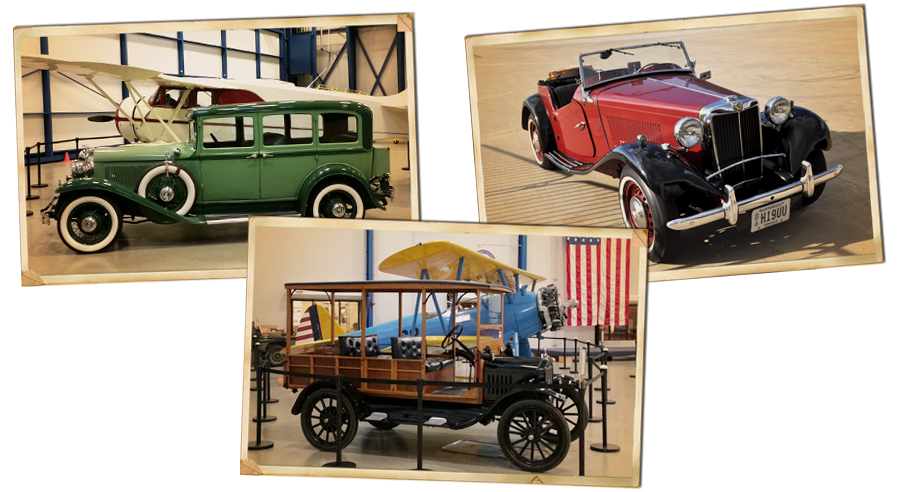 Top Left: 1931 Chrysler 6, 4 Door Sedan
The Chrysler Series CM was introduced in January 1931 as a mid-year model. Though it was introduced in 1931, they were actually an early release 1932 model. The CM Series configurations, the four door sedan with seating for five was the most popular of this design. At a base price of $895, they were a great value in performance, design, materials and styling. In total, 28,620 units were sold accounting for the majority of the CM sales in 1931-1932.
This particular vehicle was owned and operated for many years by Mr. Richard S. Hartley of Lakeside, Ohio and was donated by his spouse, Mrs. Dorothea Hartley and son, Mr. Thomas R. Hartley.
Manufacturer: Chrysler Corporation of Detroit, Michigan
Model: CM
Capacity: 4-5 Persons
Body Type: 4 Door Sedan
Powerplant: 217.8 cu. in. L Head Unit
Cylinders: Straight 6
Max Horsepower: 80 hp
Transmission: 3 Speed Manual
Drive Wheels: Rear Wheel Drive
Braking System: Drums
Fuel Capacity: 21.5 gal.
Top Right: 1952 MG - TD Roadster
The MG Midget sport cars produced from 1936 till 1955 are known as the MG Series T-Type Midget. Their production was started in 1936 with the TA, after which the TB followed just before the start of World War II. Post World War II, their production continued with the MG TC. In 1949, the MG TD was introduced. This automobile was primarily an English export manufactured for the U.S. "Sports Car" Market. Their production was stopped in 1955, 20 years after the first T-type was introduced.
This display is dedicated to Richard Edward "Dick" Johnson in recognition of his untiring service and support in endeavoring to develop this fine airport in Port Clinton, Ohio. The restoration of this vehicle was completed by John R. Ripich.
Manufacturer: MG Car Company Ltd., Birmingham, England
Model: TD Midget
Capacity: 2 Persons
Body Type: Roadster
Powerplant: 76.3 cu. in., 1.3L
Cylinders: 4
Max Horsepower: 54 hp @ 5200 rpm
Transmission: 4 Speed Manual
Drive Wheels: Rear Wheel
Braking System: Drums
Gross Weight: 2060 lbs.
Fuel Capacity: 15.1 gal.
- - - - - - - - - - - - - - - - - - - - - - - - - Further Reading - - - - - - - - - - - - - - - - - - - - - - - -